Avakov announced the staggering amount of security Deposit to be paid by the detained ex-tax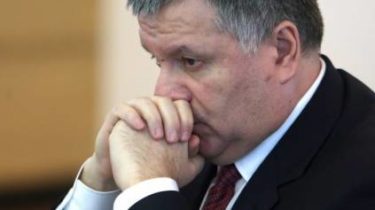 The total amount of bail for detained former high-ranking tax of about 350 million UAH.
This was announced by the Minister of internal Affairs Arsen Avakov, Interfax reports.
"It is now considered by almost all measures the detained former officials of Fiscal service. And we have now not so little – about 350 million of collateral, 7 man is now arrested," said Avakov.
For minor posts, he added, will later be appealed.
"Several people, in respect of which the decision of the court accepted the personal obligation and minor liens, we make a decision with the Prosecutor's office, and we will appeal," – said the Minister.
Meanwhile, the show with helicopters and delivered ex-tax to the capital cost to the Ukrainian budget of 330 thousand hryvnias, and those the money spent has paid off, reports TSN. In particular, despite the fact that the Pechersky court releases one-by-one tax, but thanks to the mortgage budget money was spent.
See also:
High-profile arrest of ex-tax: Avakov said the security forces have detained more than all who were
We will remind, the Pechersky regional court of Kiev released on bail in the amount of 15 million hryvnia, the former head of the State tax administration in Luhansk region Alexander Antipov.
The former head of the State tax administration in Poltava region Vladimir ZADOROZHNY, detained during large-scale anti-corruption operation on may 24, was released into the wild. The Pechersky district court of Kiev decided to appoint ZADOROZHNY preventive measure not involving detention.
Two Kyiv tax officers, ex-Chairpersons of the regional offices of the tax Inspectorate, allowed out on bail of $ 1 million, and former head of the tax inspection of Podolsk district Alexey Yaroshenko, who is accused of collaboration and participation in schemes of Yanukovych, was released from the courtroom on personal recognizance without the bracelet.
Note that large-scale anti-corruption operation was conducted by the Prosecutor General and the interior Ministry. After the search was arrested 23 former high regional officials of the Ministry of income and fees from the Eastern and southern regions, as well as Kiev. On this worked together 1700 five hundred police officers and prosecutors.
Comments
comments