In the US, a brave girl shocked the theft of the car, when suddenly climbed onto the hood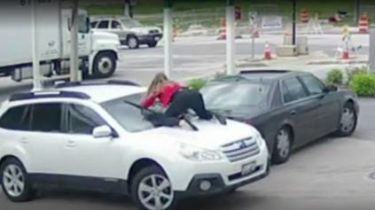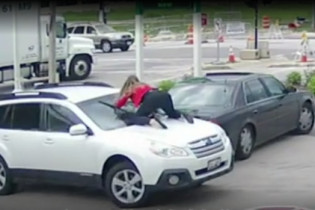 On one of the gas stations Wisconsin unknown attempted to steal a Subaru, but his plans were prevented to be realized the owner of the car.
Video from a surveillance camera and published on the official website of "BBC News" in Facebook.
A girl named Melissa did not notice how near stopped black car. She saw the thief, when he opened the door. The girl thought: "I'll chase your wallet? I will be able to stop the car?" "Price my car lightning flashed in my head," said the victim.
See also:
In Kiev detained "scenaristov" who tried to steal a bag of money with auto
Without wasting a moment, Melissa climbed on the hood and closed the windshield to stop the thief. "He looked at me and laughed that I was incredibly annoying. He laughed and wanted to throw me from the car. No remorse" – says the girl.
But very quickly, the offender surrendered and returned to the black sedan that was waiting for him. The car Melissa was rolling on, and while the girl stopped him, the thief left the dressings off.
See also:
Seduced a woman at a car wash and stole a car in Kyiv detained the lover of a thief
Now Melissa says that under no circumstances will not leave the car without locking it and taking the keys with me.
The police are looking for the perpetrator.
Earlier it was reported that in Kiev at the exit from the enterprise attacked by masked men on the car and took out a package with a million hryvnia.
Comments
comments