"Life salt". As in the Network laugh at the fake Russian TV about paying for the trip in Ukraine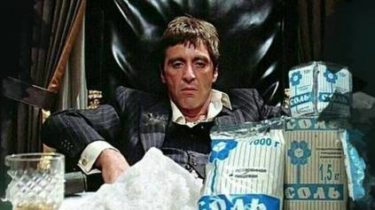 Ukrainian Internet users funny jokes and photoshopped pics reacted to the speech of the leader of Melitopolskoe "Antimaydana" Catherine Umanets, who is in the air "the First channel" have declared that the Ukrainians calculated salt for journey in minibuses.
Pro-Russian propaganda in the embroidery told about the alleged poor life and said that two days ago, arrived in Moscow from Ukraine.
"Sadly, poverty. We the people salt are calculated in the taxi," said Umanets front of the camera.
The moment the video begins with a 26.29.
This statement of the Pro-Russian propagandist laugh users of social networks and inspired the creation of photoshopped pics and jokes.
It looks like a monthly pass to Melitopol. pic.twitter.com/kgKQXDjjDS
Baba and cat (@babaikit) 26 may 2017
Bread and salt-all I like uranzu,need!
Salt pay for travel in a minibus which brings you to the cluster of pigeons to take their bread!
— Demilew FR€$H (@AzatlikUA) may 25, 2017
ATTENTION!
Rumor has it that the salt already bodyazhat.
Cox.© pic.twitter.com/LiAgSCtceO
— Lina (@lisavvv) 26 may 2017
We will remind, earlier Russian mass media disseminated by fachowo the news that the Ukrainians taken bread from the pigeons. The news was accompanied by a photo of the woman sitting next to the birds.
Comments
comments