"I won't make excuses." Filatov was appointed head of the municipal police of the Dnieper ex-berkutovets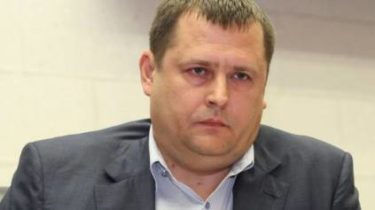 In the river the municipal police will be headed by the former commander of the Dnepropetrovsk "Berkut" during Maidan Andrey Tkachenko.
Wrote about this on his page in Facebook the mayor of the city Boris Filatov.
"I take a job in the Dnipropetrovsk city Executive Committee commander of "Berkut" during Maidan – Andriy Tkachenko. Now he, not "pravosek" and volunteer Cyril Kharakhulakh, will command the team", he said.
Filatov also stressed that he has the political will to make these "difficult decisions", which "requires a complex time in which we live." He assured that is not going to make excuses for his decision.
"I'm not going to make excuses. To shout about the fact that Andrew was not involved in crimes against protesters. For not leaving their subordinates when Mudgee bosses cowardly ran from Kiev. What stopped irreparable, from the Conservatory when the sniper started shooting in the Dnieper "eagles" and wounded six people," – said the mayor of the Dnieper.
Separately Filatov added that Tkachenko passed the lustration test, and in 2014 he commanded a regiment PPP and organized in an effective system of security against sabotage and terrorist attacks.
"It is very interesting that now, they say the local "rygi" and " > " that are at each corner of the frightened citizen's "private army Filatov scored from the right-wing radicals and nationalists," he said, explaining that he wants to restore order in his native city, "even if from Ternopil and Toronto I will curse".
We will remind, on may 9 in the river there was a fight between "aunts" and veterans of the ATO: all this happened in front of the police. The conflict over forbidden symbols arose first with the socialists and escalated after column moved, the representatives of "Opposition bloc". Unknown sprayed tear gas. And then into the fray stepped in, accompanied by Deputy Oleksandr Vilkul we all had the same orange label on the clothing. Ukrainian activists claim that the police helped beat them together with "aunts".
After the riots, interior Minister Arsen Avakov signed a decree on dismissal from the post of head of police Department in Dnipropetrovsk region General Igor Repeshko, the chief of a municipal police Department of the Dnieper Colonel Andrew Bidylo and corresponding alternates to ensure public safety.
The Chairman of the National police of Ukraine Sergey Knyazev has been appointed as the new head of the Main Department of Ukraine in the Dnepropetrovsk area Vitaly Glukhoveryu, and the acting head of the police in the Dnipropetrovsk region on public safety appointed head of the patrol police of the city of Dnepr Vladimir Boronos.
Against the new head of the security forces in social networks sparked heated debate due to the released journalists, photo t-shirt with the inscription "USSR", but the mayor Filatov called it schizophrenia.
Comments
comments