The expert described the main reason of utility "explosion" on Goloseevka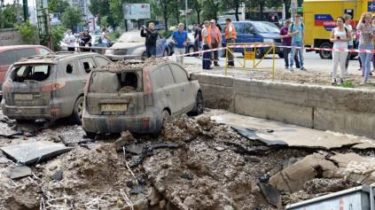 "Performances" from the public utilities with the multimeter fountains have become the rule for Kiev – they happen every year. The experts note that to prevent unexpected destruction quite a force, according to a story TSN.19:30.
Public utilities complain about the worn-out network and the inability to calculate the "weak" places of the pipes other than raising the pressure to the maximum. But experts say that the civilized world long ago abandoned such methods, which lead to industrial accidents and threaten the property and health of Kyiv residents. "These hydraulic tests are generally archaic. Here they are now "inflate" the pipe, increase the pressure, keep for 10 minutes and see, or falls, or not, there are holes or not. Modern methods allow to determine without raising the pressure", says the Director of analytical research center "Institute of" Alexander Sergienko.
Comments
comments