The world is not recognized, and Moscow is feeding with a spoon. Ukraine insists on the abolition of the "bodies" of militants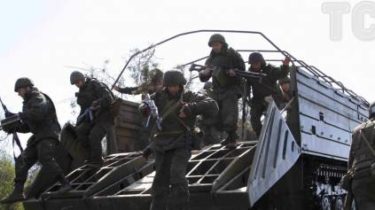 For the transition to the implementation of the political block of the Minsk agreements need to cancel pseudointimal authorities in the occupied Donbas.
This was stated by first Deputy Chairman of the Verkhovna Rada Iryna Gerashchenko after a meeting with the delegation of permanent representatives of the member States of the OSCE, UNIAN reports.
See also:
Terrorist Zakharchenko called the main goal of "DNR"
She noted that at the meeting they talked about the need to implement the political part of Minsk agreements.
Gerashchenko said that the Ukrainian side adopted a law on local self-government in separate districts of Luhansk and Donetsk regions and also the Amnesty law, but they have not entered into force due to the holding in these areas, "pseudoracemic the Kremlin-inspired elections."
In order to proceed with the political unit of the Minsk agreements should be abolished all pseudointimal authorities in the occupied Donbas, she added.
"Their world is not recognized. But it feeds them with a spoon, and very generous. That Moscow needs to make a statement that no institutions do not exist in these areas," – said the MP.
See also:
Action Zakharchenko acknowledged the occupation of Donetsk
Position of the Ukrainian authorities is the illegality on the part of the Russian Federation "raider seizure of Ukrainian property, and the recognition of pseudodocument that created the Foundation for the raider seizure of Ukrainian property," – said Gerashchenko.
She stressed that the Amnesty law can take effect only after the demilitarization and de-occupation of the territory of Donbass and in the presence of the Ukrainian courts on the territory.
Earlier, the leader of the militants "DNR" Alexander Zakharchenko declared that is ready to negotiate with Kiev on the coexistence of "on a confederal basis". According to him, terrorists ready to negotiate with Ukraine, but not with the current government.
Comments
comments