Fallen trees and broken machines: Kiev was covered with a strong weather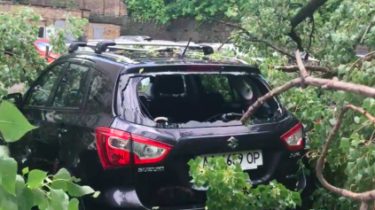 Kiev had approaching thunderstorms and heavy wind.
Due to bad weather conditions damaged at least five vehicles. The corresponding video TSN.ia sent to the reader.
According to eyewitnesses, near metro station Vasylkivska str Smolny strong storm knocked down trees directly on the machine.
About victims while is not known.
It is worth noting that in gschs today, may 30 reported that in Kyiv and Kyiv oblast looming thunderstorms and heavy wind. Such weather will continue until the end of the day.
According Ukrgidromettsentr, in the next hour and hold till end of day may 30 in Kiev and region thunderstorms in places squalls of 15-20 m/sec.
Comments
comments