In Ukraine opened a case against officials of the Russian Federation for waging hybrid war in the Crimea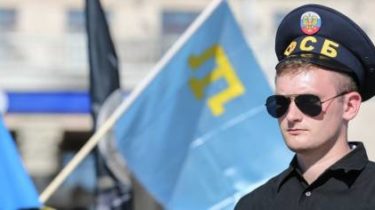 The Prosecutor's office of Autonomous Republic of Crimea has opened a criminal case on the fact of decisions of officials of the Russian Federation, officials of state bodies and local self-government bodies of AR Crimea for hybrid war against Ukraine. Reports a press about it-service SBU.
The proceedings brought in the Unified register of pre-trial investigations under part 1 of article 437 of the Criminal code of Ukraine, namely, planning, preparation or waging a war of aggression or military conflict, as well as participation in a conspiracy to commit such actions.
In SBU note that this criminal case is unprecedented, marking the first time a legal assessment will receive the information component of the hybrid war of Russia against Ukraine.
See also:
The full text of the decree of the Court of justice on the claim of Ukraine against Russia
"The importance of this process is determined by the fact that Russia's aggression brought the deprivation and forced to leave the habitat of thousands of Ukrainian citizens, especially Crimean Tatars, who for the second time in 60 years, in fact, survive the genocide by the totalitarian regime. The Agency for refugees, the UN estimated the number of internally displaced persons in ten thousand, most of whom are Crimean Tatars, and one-third are children", – stated in the message.
Indicates that the work of the SBU helped to build a body of evidence and start criminal proceedings.
"During a pretrial investigation will focus on the facts of preparation for the annexation of Crimea and the artificial creation of the population of the Peninsula, including through the media and Internet resources, the hatred of the peoples of Ukraine", – stated in the message security Service.
Legal assessment needs to other actions aimed at elimination of obstacles for the invasion of the armed forces on the territory of Crimea and the creation of conditions for the illegal annexation of the Peninsula.
We will remind, on April 19 the international court of justice agreed to introduce protective measures against the Russian Federation for the protection of national minorities in Crimea at the suit of Ukraine. In its decision, the court of justice ordered Russia to refrain from the restrictions of the Crimean Tatars for representation of their interests, including the resumption of the activities of the Parliament, and to enable the restoration of Ukrainian education.
In addition, the court imposed on both parties the obligation to avoid violations of the Convention on the prevention of all forms of racial discrimination.
Comments
comments