Putin "pressed" Anna of Kiev: social networks ridiculed the Russian President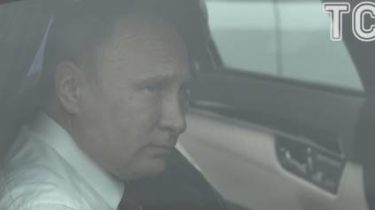 Ukrainian users of social networks made fun of Russian President Vladimir Putin, who "appropriated" the Kiev Prince Yaroslav the Wise and his daughter Anna.
During a joint with the President of France Emmanuel Makron press conference, Putin stated the following:
The "enlightened French public knows about the "Russian" Anne – Queen of France; the youngest daughter of our Grand Prince Yaroslav the Wise was the wife of Henry I, and made a significant contribution to the development of France, being one of the founders of at least two European dynasties of the Bourbons and Valois, one of which still reigns in Spain", – said Putin.
See also:
False Russian media, the Chechen gay and Queen Anne: was talking about him and Putin in Paris
Users joke on the Russian President, reminding him that when she was born and lived Anna, Moscow has not been as it did not exist and the Russian state.
The territory of Moscow in the time when Anna Yaroslavna of Kiev was Queen of France. pic.twitter.com/hw1t542oqs
— Andrey Shumylo (@andykrim65) 29 may 2017
Kiev is the capital of Russia. Kievan princes all Russians. Anna brought to France tricolor, a little altered, and turned the flag of France. pic.twitter.com/MrkG6ylapD
— Rogozin-to-orbit (@LyapunovS) 29 may 2017
Anne of Kiev was Russian,Tutankhamun was from Perm,Caesar went to Khabarovsk,and Asterix and Obelix all from Mytishchi
— Howe Gencheck (@Henichesk_UKR) 29 may 2017
Anna Yaroslavna, Queen of France, was the daughter of the Kiev Prince. And the Udmurts relationship has not exactly been: pic.twitter.com/Kk7RLCvrgz
— Foreign Rossi (@Fake_MIDRF) 29 may 2017
worthwhile in France said that Anna Yaroslavovna, was a citizen of the DNI
— Cocks Helmet Gubarev (@shlemofondo) 29 may 2017
Comments
comments