The head of Lenin with the metro became a giant spider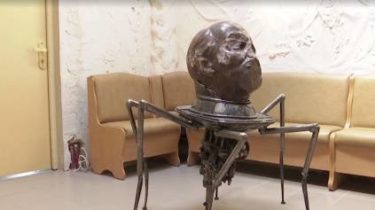 In the unusual art object was transformed the capital's lawyers, led by city Council member the head of Leninthat stood on Bessarabka in Kiev. Now part of the monument resembles a giant spider, says the story TSN.19:30.
After the overthrow of the monument in Kiev center during Euromaidan, one of the activists, along with friends took a 100-kilogram head of the leader. Granite rarity raised on the roof of a multistory building lift and staircase five men. Now a head without ears, nose, mouth and eyes gouged stands on a metal base, which is attached to the legs. Network this unusual art object has been dubbed the giant spider, although the current owner no names he comes up with. "This is the era of slavery when a people was something mechanized and carried out the will of one leader. The name we gave too much honor," – said the Deputy of city Council Yury Didovic.
Comments
comments