In "Kievpasstrans" explained why raise fares in the capital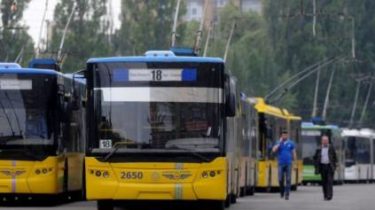 Passenger fares in Kyiv for UAH 1 partially overcome inferiority and compensates for the cost of electricity and wages public utilities.
This was stated by General Director KP "Kyivpastrans" Dmitry Levchenko.
"The price of the ticket includes the cost of transportation, wages, fuels and lubricants, electricity, maintenance and repair of rolling stock. Despite the significant increase in the cost of these key components for today significantly increased the cost of one trip", – he stressed.
According to Levchenko, the experts calculated the economically justified tariff, according to which travel by city train should cost of 15.39 UAH, and the land – of 6.91 UAH.
"The discrepancy between the real and the applicable rates makes passenger transportation in Kiev unprofitable", – assured the Director of "Kyivpastrans".
At the same time, in his opinion, due to the fare increase can be partially reduced loss-making passenger services and to allocate funds for electricity and increase in salary of 10 thousand employees, which is the decision of the Cabinet shall be not less than 3200 UAH.
"Meeting the needs of the people of Kiev, and we must provide high-quality transport services and to provide comfort and care for the safety of passengers. This means that the CP "kievpasstrans" needs at least to carry out overhaul and average repair of rolling stock, introduce new routes and decrease headways on the existing routes of the city. Replacement of outdated and worn we need to buy a new vehicle, because first of all, the safety of people, safety of traffic", – he added.
Separately Levchenko noted that a portion of the fare to compensate from the city budget, as well as will keep all the benefits.
We will remind, during the current year, the Kiev subway fare can rise by about 50%. In an interview with Tsne said the Deputy head of the Kiev metro Dmitry Peklo. According to him, this is due to the fact that is constantly becoming more expensive components, consumables, indexed and salary increases. "The company cannot afford to operate at a loss," added Peklo.
Comments
comments