The driver of the car that crashed into a minibus in Kiev, was drunk – police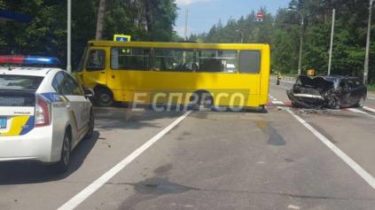 Passengers of the bus, which is on the outskirts of Kiev collided with a passenger car, were taken to hospitals, according to TSN.16.45.
10 people were injured – 9 bus passengers and the driver of the car, according to preliminary data, he is responsible for the accident.
We will remind, about an hour of the day from Kiev in the direction of Vyshgorod moving bus with passengers. Meet, at high speed, racing car "Audi" foreign numbers. After a head-on collision, the cars smashed in the front part of the bus reverses in the opposite direction and it stops only because of the curb.
Injured passengers and the 30-year-old driver of a passenger car were hospitalized to the hospitals of Kyiv.
Police who arrived on the scene they say 30-year-old driver of "Audi" was drunk.
"He had signs of alcoholic intoxication," – said the policeman.
The investigators have finished their work. Therefore, the route was unblocked and traffic has been restored.
Comments
comments