In the NEB confirmed that Nasirova was denied exit for treatment in USA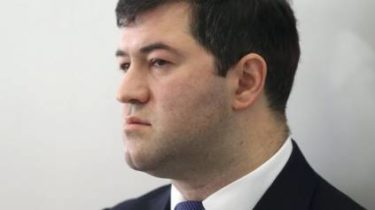 The detectives NAB refused suspended Chairman of the State fiscal service Novel Nasirova in granting permission to travel outside Ukraine. This decision was taken may 30, according to the results of consideration of the petition of the suspect.
About the NAB reports in Facebook.
The report said that this is the second message of the President of DFS. He first requested permission to attend the national team of Ukraine on judo in Warsaw in April. May 25, the NEB received a request for permission to travel to the United States, motivating a trip by the need "to treatment".
"In the case of travel abroad, to guarantee the return of the suspect to the Ukraine has nothing, except his sense of justice. In addition, between Ukraine and USA does not have extradition agreement", – are convinced of NABOO.
See also:
Nasirov spoke about his part in the RAID against ex-tax
We will remind that earlier the head of the fiscal service Roman Nasirov asked detectives of the National anti-corruption Bureau to return his passport. He gave the result of documents that confirm the urgent need to travel abroad for treatment.
Country where to provide medical services, Nasirov called the United States. A copy of the relevant application from private sources received the journalists of TSN. In the official document emphasizes the need for post-operative treatment – surgical intervention he has experienced in Kiev.
We will remind, the Solomensky district court of Kyiv has decided to extend the measure Novel Nasirova for 2 months. Protection Nasirov, but, asked to soften the constraints and to give him permission to move freely and travel abroad.
Nasirov is suspected of abuse of office and embezzlement of public funds in the amount of over UAH 2 bn. The consequence considers that Nasirov, acting in the interests of the Deputy Onishchenko, under the "gas case" is groundless, provided the number of enterprises the possibility of tax liabilities in installments.
Dismissed the head of the DFS released on bail in the amount of UAH 100 million. Money for him was made by his wife Catherine Klimovska. Answering the question of where the money Nasirov said that, they say, would be better if he sat in the detention facility and argued his guilt.
Comments
comments