Save. Trump invited users to guess what he wrote in the erroneous tweet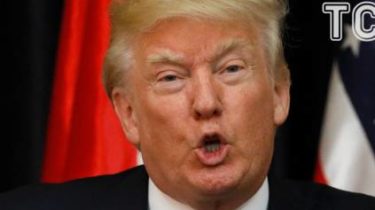 The President of the United States Donald trump decided to respond to a wave of jokes that hit him after the tweet with the error.
In it he wrote the word "covfefe" which is not in any dictionary.
See also:
Not taking her husband's hand and constantly sad. What's wrong with Melania trump
"Despite the constant negative press covfefe," the literal meaning of the message trump.

twitter.com/realDonaldTrump
Users of social networks began to joke that in fact the US leader was trying to write another word, but his arms are too short to do it. Also made a funny memes and gifs.
When you realize an 8 year old In the Upside Down is better at spelling than the POTUS #Covfefe pic.twitter.com/FUSpYGT6o6
— The Black Sheep (@TheBlackSheep99) 31 may 2017
#Covfefe is almost 12 hours old and we still don't understand: https://t.co/rChaPM4Fqr pic.twitter.com/qBiTlO7b2N
— Entertainment Weekly (@EW) may 31, 2017.
Once over the leader of the United States mocked in social networks, it is suggested users to guess what he had in mind. Previous tweet he deleted.
"Who can understand the true meaning of "covfefe" ??? Enjoy!", he wrote, thereby heating the desire of users to share sarcastic comments.
Who can figure out the true meaning of "covfefe" ??? Enjoy!
— Donald J. Trump (@realDonaldTrump) may 31, 2017.
As previously reported, on the eve of the first voyage of Donald trump as US President on the Middle East and Europe, which lasted nine days. Almost every country trump remembered for his "mistakes" and curiosities that we have collected in one article→.
Comments
comments