As Russia seized Crimea. The Ministry of justice presented the chronology of the occupation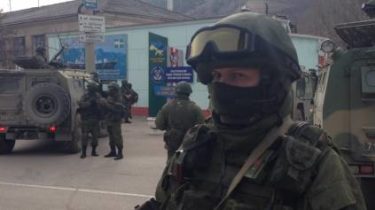 June 1, the Ministry of justice of Ukraine presented the chronology of the capture of the Crimea by Russia to the international court of justice.
It is reported Еспресо.TV.
The Minister of justice of Ukraine Pavel Petrenko told how it all began.
"We made a chronology of Russia's seizure of Crimea on dates and locations, as it happened. It was a military operation that was planned to open in 2014. Think secret operation to seize Crimea and other territories of Ukraine have been preparing for decades. We broke the blocks that have documented, in several parts," – said Petrenko.
"On February 27, blockaded the port of Theodosia. Airports Simferopol, Belbek, GP "Krymaerorukh" on 28 February, the ferry "Crimea-Caucasus" in Kerch – March 2, Sevastopol Streletskaya Bay – March 3, outer Harbor naval base "Sevastopol" – March 3, exit from the lake Donuzlav – 6 March", – said the Minister.
February 27, according to the justice Ministry, began overlapping the invaders of the Crimean isthmus by blocking traffic police post "Chongar", "Turkish shaft" and "Perekop" and set your own checkpoints. Under the guise of so-called "samooborontsev" on these points were in fact acting regular troops and special services of the Russian armed forces.
"The second block of the operation that we have proved conclusively, blocking of military objects. Blocking and seizure by Russian troops of Ukrainian facilities in Crimea began in fact with the 20-th of February," continued Smith.
See also:
Trump wants responsibility for Russia for actions in Crimea and the Donbass
So, on 21-22 February in the Crimea and Sevastopol took place the movement of more than 30 armored vehicles of the Russian Federation with Russian identification signs, February 25 – the first attempt of block Ukrainian military ships "Slavutich" and other vessels of the black sea fleet of Ukraine.
February 27-28, began an open active blocking military units of VSU, abduction and the capture of the military. Outdoor Russian forces capture Ukrainian military units began on March 19, 2014.
According to Petrenko, in international courts initiated 5 cases of Ukraine against Russia. So, the ECHR has officially confirmed the adoption of the Ukrainian legal position on the facts of human rights violations in the Crimea, currently the Ministry of justice expects procedural decisions about the handling of the case.
We will remind, earlier Crimean officials told the truth about how Russia was preparing to seize the Crimea. Directly plans for the Crimea started to develop in 2008, when Russia submitted its bid for the Olympics in Sochi.
Comments
comments