Kadyrov is crazy: Okueva told about the preparation of other attempts to assassinate "killer Putin"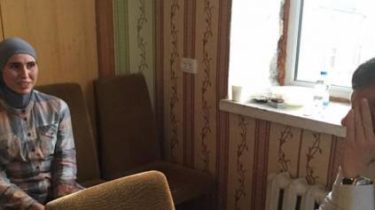 Wife wounded in Kiev as a result of firing of the former head of the battalion name Dudayev Adam Osmayev amine Okueva said that the first time was preparing an attempt on the life of her husband.
This writes LB.
"Of course, we have information that in Ukraine have detained the man with the explosives, which had to put Adam under the car. While we do not Express details. We constantly get information from different sources that the FSB is engaged in order to eliminate Adam. Plus Kadyrov. Kadyrov generally going crazy. He's a hundred thousand each, almost homeless, gives, who agrees at least to do something," said Okueva.
See also:
Russian track and lightning reactions AquaWay: what you should know about the attack on the "killer" of Putin in Kiev
According to her, after the gunshot wounds Osman is now in the hospital, conscious and understands everything, but can't talk. He received one puncture wound to the chest. The wound grazed the right lung, diaphragm and upper part of the liver.
Recall that Arthur Danisultanov-Kurmakaev that in the Podolsk district of Kiev wounded volunteer ATO Adam Osmayev, tried to enter the environment of the RPL leader Oleg Lyashko. This was announced by the people's Deputy Igor Mosiychuk.
According to the parliamentarian, Lyashko learned of Sagittarius. He had contact with the leader of the radicals under the guise of a journalist.
We will note, in March 2014, accused of attempted Putin, Osmayev asked for Ukrainian citizenship. In February 2012 he was arrested in Odessa on suspicion in participation in explosion on 4 January 2012. Then, during the explosion killed 26-year-old Russian citizen and seriously injured 28-year-old citizen of Kazakhstan. February 27, the SBU said that the detention in Odessa by Russian and Ukrainian special services averted the plans of terrorists plotting the assassination of Putin after presidential elections in Russia.
Recall that Amina Okueva – known Chechen and wife of battalion commander named Dzhokhar Dudayev who fought in the Donbass. In an exclusive interview for Dnia she told methat the war in Ukraine will not end until Russia will not abandon its Imperial ambitions.
Comments
comments