The main defendant in the case about abduction of the businessman claims that he was framed by the police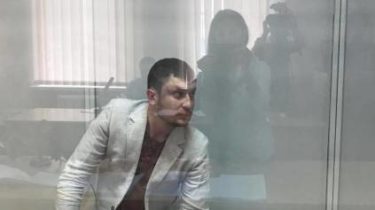 One of the detainees in the case of plotting the kidnapping of a businessman for $ 17 million – Denis Yaroslavl – denies allegations and claims that it "framed colleagues".
About it the correspondent of TSN.
Yaroslavsky, who is the main accused, calls himself the acting head of the Obukhovsky regional Department of police who are on vacation. In turn in SBU noted that the militiaman was dismissed earlier.
He claims that the case was fabricated, and to substitute his colleagues allegedly trying law enforcement.
See also:
There are details high profile case of the abduction of a businessman in Kiev region for $ 17 million
The Prosecutor's office asks for it, the restrictive measure of arrest without possibility of bail and say they have all the evidence of his guilt. The man threatens till 8 years
The defender Yaroslavl asks him weaker restrictive measures, because the defendant has serious stomach problems.
As previously reported, on June 1 in Kiev region detained a gang which tried to smuggle in Russia businessman for $ 17 million. A group of individuals, composed of the chief of regional Department of police, by order of the citizen of the Russian Federation tried to smuggle a man on Russian territory.
According to Prosecutor General Yury Lutsenko, the man who planned to kidnap, moved to Ukraine because of the persecution by the Russian authorities and worked here in the manufacturing business. His name was not called.
One of the members of the group was Vladimir Bova. He is charged with the preparation of illegal imprisonment and bribery of officials. The main figurant in the case – the ex-policeman Denis Yaroslavsky , and the third detainee – Gromov Magomedhan. The measure was chosen only Beauvais – 2 months of custody or Deposit of 134 thousand.
According to unconfirmed reports, the businessman who tried to kidnap a gang – Vladimir Krupchak, the owner of the Obukhovsky cardboard plant.
Comments
comments