The court will continue to consider the case of Kernes on "Euromaidan" in July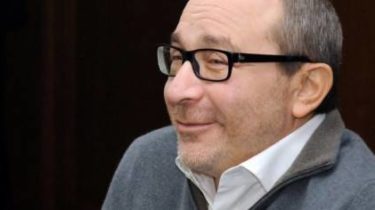 The next court session of Kyiv district court of Poltava in the case against the mayor of Kharkiv Gennady Kernes and his guards Vitaly Blinnikka and Eugene Smitkova scheduled exactly one month from today, LNA – 3 July.
About it reports "Interfax-Ukraine" with reference to the portal "the Judiciary of Ukraine".
As you know, on may 29, the judge of the Kyiv district court of Poltava Yurii Kulish refused satisfaction of the petition of state charge for recusal of Andrei Antonov, who hears the case.
See also:
Gerashchenko told about cooperation with Kernes and purchased for a tidy sum "Colt"
Prosecutor Alexander Danilov demanded the withdrawal of Antonov as, in his opinion, he took the side of the accused and their protection. The petition of the public Prosecutor was supported by an aggrieved party. The defendants ' lawyers believed the petition for recusal Antonov unreasonable and not be satisfied.
We will remind, the mayor of Kharkov Kernes and his guards are accused in the kidnapping, torture and death threats activists of the Kharkiv Bromide" Alexander Kutyanina and Sergey Ryapolova.
January 25, 2014, unknown persons attacked the participants of the March in support of Euromaidan in Kharkov. On the same day the Deputy of Kharkiv regional Council, Ivan Varchenko ("Batkivshchyna") announced the abduction of two activists of "Euromaidan" – Alexander Kutyanina and Sergey Ryapolova "after they removed the car number plates "friends Kernes" near the hotel "national". Later, the Department of public relations of GU Ministry of internal Affairs of Ukraine in Kharkiv region reported that the information about the kidnapping of activists Bromide" was not confirmed.
March 2, 2015 Kernes was notified about suspicion in Commission of crime, provided CH. part 2, 3 of article 27, part 2 of article 146 (illegal imprisonment or kidnapping), part 2, 3 of article 27 part 2 of article 127 (torture), h h 2, 3 of article 27 of part 1 of article 129 (threat of murder) of the criminal code of Ukraine and the completion of the preliminary investigation.
26 Mar 2015 GPU handed over to the court indictment in criminal proceedings against Kernes and his two bodyguards.
April 2, 2015 Supreme court declared the operative part of the decision on transfer of the case Kernes of Dzerzhinsky district court of Kharkov to Kiev district court of Poltava.
Comments
comments