Z nastupnogo tyzhden on the Moskovskiy bridge in CIV to abnegate movement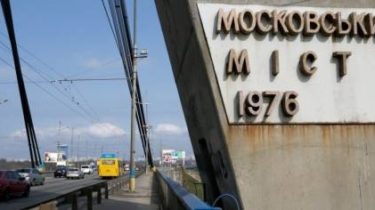 Traffic on the Moscow bridge in the capital limit from 21:00 of June 6 until 9:00 on June 9 in connection with the repair.
This was reported by the Kyiv city state administration, transfer "Ukrainian news".
"In connection with the execution of works on repair of asphalt pavement on the Moscow bridge in the direction of movement with the prospect of Stepan Bandera on the street of General Vatutin partially restrict the movement of transport," – said in it.
See also:
On the Nivki in Kiev began the deadlock duration of three months
In particular, from 21:00 on June 6 before 8:00 on June 7 will be limited traffic on the fourth lane of the highway, from 21:00 June 7 8:00 June 8 – on the third lane from 21:00 on 8 June to 9:00 June 9 – on the second page.
Recall that from June 1 to September 1 overpass near the metro station "Nivki" will be closed for the passage of vehicles.
Since June 1, Ukraine has banned the movement of trucks on hot days. The restriction will be in effect throughout the summer.
Comments
comments