Holodnitsky told why Nasirov not allowed in the US for "treatment" and why he shows the passport of Britain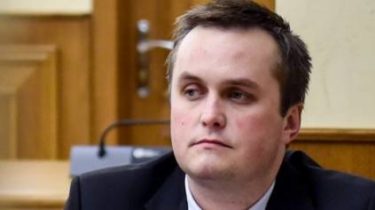 The Chairman of the Special anti-corruption prosecutors Nazar Golodnitsky said that the suspended Chairman of DFS Roman Nasirov denies that has a British passport.
About this Holodnitsky said in an interview with TSN.
"We have confirmation from the British side that he is a citizen of the UK. He says that the passport he won't. Therefore, do not have passed," he said.
See also:
The corrupt should repair the damage, to repent and admit guilt
In particular, according to the head of SAP, Nasirova was searched, but the British passport he found.
"Perhaps, in Britain somewhere in the passport. But the passport is gone. We only have the official answer from the British side that he is a citizen of the United Kingdom from 2012 seems to be years," added Holodnitsky.
In turn, answering a journalist's question about whether Nasirov theoretically to run, the President of SAP said that it is necessary to consider all the risks.
See also:
The court upheld the measure of restraint Nasirova
"Considering that measures to ensure the production of bangle and so on, so we have to weigh all the risks. In the circumstances, financial position, and information from the competent bodies of great Britain about citizenship and his desire to leave the territory of Ukraine at least a treatment, we have to weigh whether or not it will be leaving for treatment, or it will then attempt to go to the States on a Ukrainian passport, and then return to London via British. Therefore, these risks we have to consider," commented Holodnitsky.
In addition, the head of SAP added that he will only be judged on the facts.
"As a Prosecutor, but a nose is, as they say. Let's just say, the previous experience, in particular, with the Deputy Onishchenko makes me thrice, and even four and five times to be safe", he added.
As previously reported, the head of the fiscal service Roman Nasirov asked detectives of the National anti-corruption Bureau to return his passport. He gave the result of documents that confirm the urgent need to travel abroad for treatment. NABOO refused Nasirova and blocked his exit.
Comments
comments