"Must reimburse what he stole.": Holodnitsky told how corrupt are going to deal with the investigation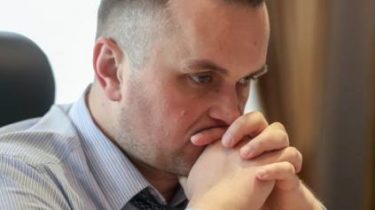 The Chairman of the Special anti-corruption prosecutors Nazar Golodnitsky explained what needs to be done to corrupt officials, to sign an agreement with the investigation.
He told this in an interview with TSN.
According to Gorodnitskogo, you need to know the CPC (criminal procedure code of Ukraine – Ed.) to plead guilty and to testify against the higher officials.
See also:
Fight fighters: Holodnitsky and Sytnik staged a polemic
"But not just testify from the sky. But to confirm these words, to compensate to the budget the amount of damage, which is determined by the Prosecutor, but not less than the one on which the damage occurred. And then we can communicate," said the head of SAP.
He also added that things are not formulaic.
"If you worked as an accountant and was responsible only for the conduct of the accounts and you have not received benefits since corruption means to you to hang 2 billion and, first, the legal mechanism, but it is wrong from a moral point of view. But, if you know where and when would you confirm this, you can pay the amount in the budget that corresponds to the gravity of the crimes by you," commented Holodnitsky.
See also:
I'm not a Jedi knight and I have no sword. Holodnitsky unveiled new aspects of "schemes."
He also noted that it is impossible to hang the entire debt on one person, and it is necessary to determine the guilt of each of the detainees and to clarify its role in a particular scheme.
"So everyone was punished. One, for example, gave the passport to create a fictitious company. He got it for $ 100 and left. Probably that he didn't earn those billions. But those who were the ultimate beneficiaries of stolen because of corruption of funds, should be held accountable justly: to reimburse all the funds, not to buy up the debt for half price or 10%, as in one case, and then wait for them to reimburse. You have to reimburse what he stole. Then we'll see. When will reimburse you repent, admit your guilt…" said Holodnitsky.
On the investigation of high-profile cases, which are now engaged NABU and SAP, is controlled whether to NAB the American FBI, etc. – read the full version of the interview with Nazar Holodnenkim.
Comments
comments