Dried fish were sent to the intensive care unit for another one from Kiev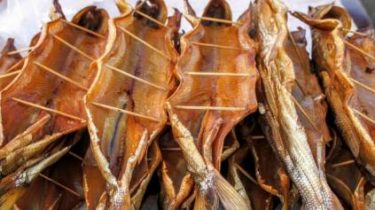 In Kiev was another case of botulism due to consumption of dried fish industrial production.
See also:
Botulism in Kiev: the experts explained how a deadly fish gets into the capital's supermarkets
About it reported in a press-service of the state service of Ukraine on food safety and consumer protection.
"The patient 20 may have purchased dried carp (producer – FLP Merkulov A.V.) in the hypermarket "AUCHAN", LLC "AUCHAN UKRAINE HYPERMARKET", address: Kiev, prospect General Vatutin, 2. On may 28, the patient had eaten dried fish, may 30, felt deterioration of state of health, may 31, requested medical assistance", – stated in the message.
The doctors gave the man a preliminary diagnosis of botulism and were hospitalized in the intensive care unit of oleksandrivska clinical hospital in Kyiv.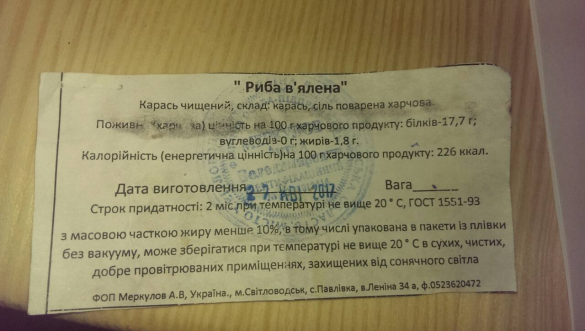 State service of Ukraine of pitane of food products and food BEZPEKA TA Zahist spozhivachiv
Now experts are conducting epidemiological investigation of the incident.
According to the authorized doctors of veterinary medicine, the products of this manufacturer (11 kg 730 g of white bream, 18 kg 196 g of dried straw pike-perch, 10 kg 685 g of dried pike-perch) has withdrawn from sale in the supermarket "AUCHAN". In addition, in the Kiev region withdrew from the implementation 405,01 kg of fish products from this manufacturer.
To prevent the implementation of the capital dried fish production FLP Merkulov A.V. letters informed the authorities, in particular, the Kyiv city state administration, Main Department of Ukraine in Kiev, the management of Gospodarevskaya. Was also notified authorities in Kirovohrad region where they can sell fish products from this manufacturer.
We will remind, last week in Kiev, has recorded three cases of botulism, one of them ended with the death of the patient. All the victims ate dried fish of the same manufacturer, although purchased at different stores. As it turned out, this fish was produced by the company, which is located near the city of Svitlovodsk in Kirovohrad region.
Later in Vinnitsa hospital the father and the son who ate dried carp the manufacturer. Family Shevchuk ate half of the fishes, but the poison she had so much that the doctors barely saved men.
Comments
comments