Ukraine signed a trade agreement with Thailand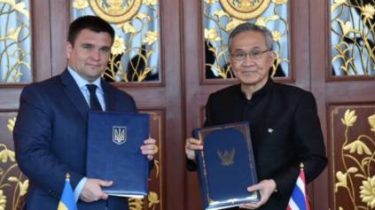 Yesterday, June 5, during a visit to the Kingdom of Thailand Minister of foreign Affairs of Ukraine Pavlo Klimkin signed a trade agreement between the two governments and the agreement on mutual legal assistance in criminal matters. Thailand was signed by foreign Minister don Pramudwinai.
"The implementation of the activities regulated by the signed documents, will significantly promote the activation of bilateral contacts between law enforcement officials and representatives of business circles of the two countries. So, the implementation of the relevant provisions of the interstate Treaty on mutual legal assistance in criminal matters significantly enhances collaboration and increase the level of coordination between law enforcement, especially in investigations of criminal offences committed on the territories of Ukraine and Thailand," – said the foreign Ministry of Ukraine.
Thailand is the main trading partner of Ukraine in South-East Asia on the bilateral trade volume in 2016, more than 600 million dollars (if positive for Ukraine's balance of 255 million US dollars).
The trade agreement "offers additional opportunities for mutually beneficial and pragmatic cooperation between the two countries on economic and investment priorities of bilateral relations. Aimed at development of contacts between businessmen, establishment of joint ventures and representative offices of commercial establishments in the territories of the two countries, the intergovernmental trade agreement reglamentary, in particular, the beginning of the work of the joint Commission on trade, chaired by the Minister of economic development and trade of Ukraine and the Minister of Commerce of Thailand, which will study possibilities of expansion and diversification of bilateral trade-economic relations".
Recall that soon will start to operate a free trade zone between Ukraine and Canada.
Comments
comments