In Kiev burning house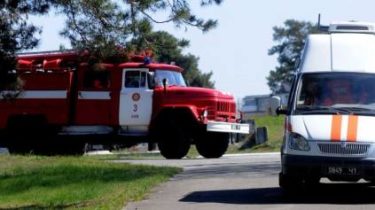 Today, June 6, in Kiev there was a fire in private residential house on the street. Union, 21.
About it reports gschs in Facebook.
Information on incident arrived to rescuers at 13:34.
At the scene it was determined that the fire originated on the 1st floor of a two storey private dwelling house.
The fire area made 400 sq. m.
According to preliminary information, no victims.
On the scene are divisions of gschs.
See also:
In Brovary caught fire and exploded bus
Recall, units of the State service of Ukraine on emergency situations in the night of Tuesday, June 6, was liquidated a fire in the town of Brovary, Kiev region. It is noted that as a result of a fire fire destroyed and damaged structural elements of buildings and products of wood, which was in the middle of an area of about 1500 sq. m.
Injured in the incident. To extinguish the fire was brought 12 pieces of equipment and 46 people.
Currently, the cause of the fire.
Comments
comments