In the "Naftogaz" has announced a reduction in gas prices after the decision of the Stockholm court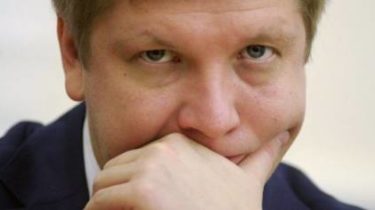 In case of renewal of cooperation of the NJSC "Naftogaz of Ukraine" with "Gazprom" the Russian gas price for Ukraine will be the lowest.
The head of the Board of the National oil and gas holding "Naftogaz Ukraine" Andrew KOBOLEV said in a television broadcast, commenting on the decision of the court.
See also:
Non-brotherly price. The head of "Naftogaz" said that means Ukraine's victory in court against "Gazprom"
According to him, the price will be lower than that now "Naftogaz" pays for European companies the reverse, because after the decision of the Stockholm arbitration the formula for calculating the price of natural gas will peregnat.
"The formula will be changed dramatically. It is now not only less than the price which requires of us "Gazprom". But it is less than the price that Ukraine currently pays for gas, which we buy in Europe," – said KOBOLEV.
At the same time, the specific numbers neither the Ukrainian nor the Russian side to announce the not be able before the final decision of the Stockholm court, said the Chairman of "Naftogaz".
As previously reported, on 31 may the Stockholm arbitration court fully satisfied the requirements of the Ukrainian "Naftogaz" against the Russian "Gazprom" on revision of prices in line with market requirements. Requirements of Gazprom's "take or pay" was rejected in its entirety. The Tribunal has also completely lifted the ban on gas re-export.
The decision cannot be appealed. Ahead of the court the calculation of mutual claims and a decision on the transit contract.
"Gazprom" and "Naftogaz of Ukraine" the legal proceedings in the Stockholm arbitration court in June 2014. The subject of lawsuits are contracts for the supply of gas from Russia to Ukraine and transit through Ukraine from 2009.
The Ukrainian company has demanded from "Gazprom" compensation at 30.3 billion for the revision of tariff for oil transportation through the gas transportation system of Europe. Gazprom demanded that Naftogaz of 47.1 billion dollars.
Comments
comments