Poroshenko has signed the law on language quotas on Ukrainian television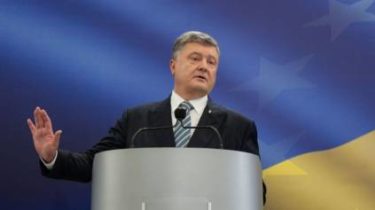 President of Ukraine Petro Poroshenko has signed the law on the proportion of the state language in the media.
He stated this during a meeting with journalists on the occasion of their professional holiday.
The President thanked the media representatives for suggestions on the introduction of quotas and the return of the Ukrainian language in the Ukrainian media.
See also:
The applause of deputies from the actors: the guests are Happy met language quotas on TV with loud applause
"Here the palm is ready to give you. This is your initiative and your suggestions, which I supported. Deputies worked brilliantly and I had a great pleasure and honour to sign (the law)," said Poroshenko.
The President stressed that the law defended the Ukrainian language among other languages in Ukraine.
See also:
For the law on quotas, hardest of all voted the radicals, and the "opposition bloc" as they could have protested
"Nobody is against screens (television) were distributed in other languages, but it is unacceptable that the share of Ukrainian language on any Ukrainian channel was 15, 20, 25%. Thank God, we managed to protect it," – said Petro Poroshenko.
Comments
comments