Groisman spoke about the future of Balcona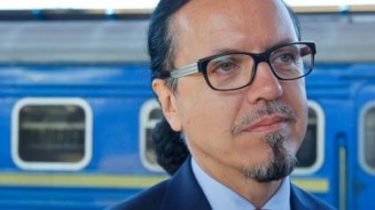 The Cabinet of Ministers intends to consider the extension of the contract with the General Director of public joint stock company "Ukrzaliznytsia" Wojciech Balkonem after his report.
This was announced by Prime Minister Volodymyr Groysman, Ukrainian news.
"The contract ended and the question of its prolongation will only ever be a report (Balcone)," he said.
Groisman hopes that this report will be submitted to the government soon.
See also:
In Balcone contract ends. A year of victories and conflicts of the head of "Ukrzaliznytsya"
We will remind, the Minister of infrastructure Vladimir Omelian hopes for the fastest possible resignation of Balcona. According to Emelyan, June 5 in Balcone over the term of the contract and he should go for something that does not live up to expectations.
In turn, Balcon previously stated that, in the case of non-renewal of contract "cream from reforming Railways will gather another head of" because "is often the one who takes on this job will not be able to stay in the company until the moment when you see the result."
Train scandal in full swing, recently, Balcan caught Omelyan on incompetence. Balcon believes that statements about the resignation of the leadership of the institution Omeljan covering for their own incompetence and lack of professionalism.
Even on 20 April the Minister said about the readiness to vote for the resignation of Balcona. According to the Minister of infrastructure, he has three candidates for the post of head of "Ukrzaliznytsya". In particular, among them former railway workers and Western experts, but he did not name names.
Earlier, the head of the Ukrainian government Volodymyr Groisman has publicly supported the head of "Railways" in conflict with the Record.
Comments
comments