In Nikolaevsk a regional Council severely deputies scuffled and boxer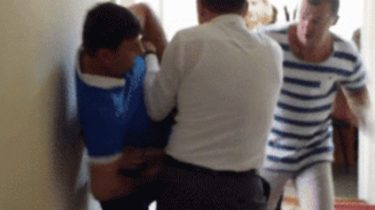 In Nikolaev during a meeting of the Commission in the regional Council the Chairman of the "opposition bloc" Vladimir Frolenko had a fight with a Deputy, Fyodor Bar, joining to this the boxer. About it report "Nikvesti".
During the meeting, the deputies began to swear, what Frolenko said Baarn "close your mouth".
After that, the men came to understand in the corridor. The lobby doors while blocked, and journalists were not allowed at the fight.
In the end, the press managed to break through into the corridor. As transfers the edition, Vladimir Frolenko clamped the neck Fedor Baarn, and another man as they beat him. The man was the master of sports of the international class, the boxer Oleg Buts.
After-fight meeting in the regional Council was urgently closed. However Vladimir Frolenko has threatened the Deputy Chairman of the regional Council Andrey Krotov, saying: "Andrei, you're next."
Later, both deputies commented on the fight, reports Novosti.N. Barna stated that he did not fight with Frolenko, they "just hugged". And then they were approached by boxer and attacked the Theodore Barna. According to the Deputy, when boxer had already left, Frolenko hit a Deputy, for which he punched him in response. Barna denies the fact of a fight and to write a statement is not going to. But on the question of why his split lip, said that just her bite.
The head of the "opposition bloc" Frolenko, in turn, also said that he was just hugging the Bar. In addition, according to him, a fighter he knows, and he just wanted them to breed.
"In the hallway, nothing happened. Was just a conflict due to the fact that Fedor (Fiodor barn – Ed.) began to defend the head of the Department, which incorrectly answered to the deputies. In the hallway there was no fight, just hug and everything. And that there is someone fighting? We just stood hugging," said Frolenko.
We will remind, earlier in Odessa court session resulted in broken doors, a fight with tear gas and blocked the Avenue. Hundreds of activists arrived in Odessa at the meeting of the economic court on the legality of the allocation of land to soldiers of the ATO, and the families of the victims. The trial turned into clash with police and blocking traffic on prospect Shevchenko.
Comments
comments