Police believe the explosion on the territory of the Embassy of the United States "hooliganism"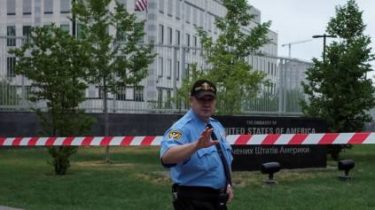 After further inspection of the scene on the territory of the U.S. Embassy , the police reclassified the case under part 4 St. 296 (Hooliganism) of the Criminal code.
This was announced by the head of the National police Sergey Knyazev.
It is noted that the police sees in this incident the signs of a criminal offense under part 4 St. 296.
"The subject who left the territory of the Embassy, couldn't hurt anyone. In this regard, the decision of final classification of the event as malicious hooliganism", – he said.
He also added that the control over the investigation in these criminal proceedings is entrusted to the main investigation Department and criminal investigation Department of national police.
Under this criminal proceedings for the objective of the SBU investigation is developing a hypothesis about a possible crime with a terrorist goal.
See also:
Everything happens in secrecy. The details of the night of the explosion at the U.S. Embassy in Kiev
We will remind, at night on Thursday, June 8, an explosion occurred on the territory of the us Embassy in Kiev. The Metropolitan police have classified the incident as a terrorist act. The victims, according to law enforcement, no.
The Ministry of foreign Affairs of Ukraine condemns bombing in the American Embassy in Kiev.
Comments
comments