Put the interests of Ukraine. Poroshenko requires responsibility for the gas contracts Tymoshenko with Russia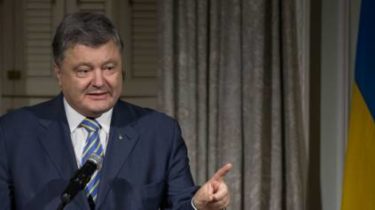 President Petro Poroshenko said about the need for political responsibility for signing gas contracts with Russia in 2009.
It is reported by Interfax.
"I say today about what needs to be responsibility. I'm not talking about criminal responsibility – and this is not the case of the President, after all, is the appropriate bodies, I am talking about political responsibility: when you put the country to its knees and today it is proven not by politicians, not the experts as the highest international judicial authority. It is proved that put the interests of Ukraine", – said Poroshenko.
The head of state recalled the recent decision of the Stockholm arbitration, which overturned the principle of "take or pay" gas contract.
"Predatory principle "take or pay" means: no matter how much you have consumed gas, will pay for 52 billion cubic meters, of which we had never consumed. And here were placed the criminal signature and its obligations is absolutely illegal, non-market and corruption", – he said.
See also:
In "Gazprom" believe that after the final decision of arbitration Naftogaz will owe
We will remind, the Stockholm arbitration has satisfied the claim of "Naftogaz" against Russia. The Stockholm arbitration court fully satisfied the requirements of the Ukrainian "Naftogaz" against the Russian "Gazprom" on revision of prices in line with market requirements.
"Requirements of Gazprom's "take or pay" fully rejected. The Tribunal has also completely lifted the ban on re-export of gas", – is spoken in the message of the NAC.
Comments
comments