Gerashchenko has explained expediency of the entry of Russians in Ukraine with biometric passports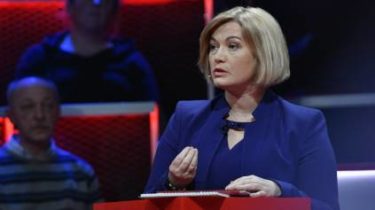 First Deputy Chairman of the Verkhovna Rada Iryna Gerashchenko does not exclude the feasibility of entry of Russian citizens in Ukraine biometric passports.
She stated on the air "112 Ukraine".
"We must be as responsible partner for the EU, from the point of view that does not create risks of migration, and in this context, an important reform, which Ukraine has been in our legislation and in our documents. We now have ID cards and biometric passports," – said Vice-speaker of the Parliament.
Gerashchenko admitted the desirability of entry of Russian citizens in Ukraine biometric passports.
"It is therefore very important to introduce a system of biometric passports, permits-in the citizens of the Russian Federation as a very important item safe. The biometric passport is an additional check who is entering, who is for people, whether it is in some database. I think that the position of the biometric passport is now wise from the point of view of our security," she concluded.
See also:
Russia threatens Ukraine with visa regime
We will remind that the Minister of foreign Affairs of Ukraine Pavlo Klimkin supported the idea of a visa regime with Russia. However, the diplomat stressed that the issues for discussion is wrong.
"I believe that even the introduction of a visa regime in the context of control of who comes from the Russian Federation a little. We have to introduce biometric passports, but then more and control those who come. It means announcing trips, and it all can be done quite effectively in the Internet", – said the Minister.
Comments
comments