Groisman commented on the possible dual citizenship of members of the government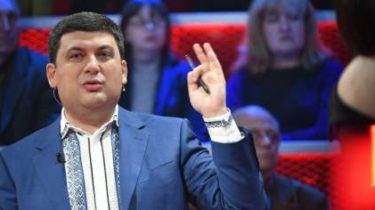 Prime Minister Vladimir Groisman says that he has known cases of dual citizenship among members of the government.
He said this during an Hour of questions to the government in the Parliament, UNIAN reports.
"I have information about the nationality of any violations of applicable law by any member of the government there," he said, answering a question of MP Dmitry Dobrolubova (independent) about the fact if he knows the facts of dual citizenship among the Ministers, acting Ministers and Deputy Ministers.
Groisman urged to provide the necessary information, if these facts occur.
"If you have information that someone has dual citizenship and violates the law, please give me this info and I'll check it out," he added.
See also:
In Parliament talking about a total inspection on dual citizenship after the case Artemenko
Recall, Poroshenko has condemned politicians with dual citizenship, and he denied foreign passports. He stressed that this relates to the members of his family. Poroshenko made a statement on may 14.
"I have never had and do not intend to have other nationalities. Neither I nor members of my family. If there is any changes I'll let you know" — said Poroshenko.
The President condemned those politicians who carry passports of other countries.
Comments
comments