In Kharkov started the talks between the presidents of Ukraine and Lithuania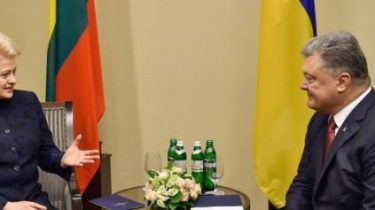 President of Ukraine Petro Poroshenko met with President of Lithuania Dalia Grybauskaite.
This reports the press service of the Ukrainian President.
Today in Kharkiv, the negotiations between the two leaders.
The results of the negotiations the heads of States will meet with representatives of the media.
It is also planned the meeting of Poroshenko and Grybauskaite with Ukrainian servicemen who are injured while participating in anti-terrorist operation and he was recovering in Lithuania.
Happy to welcome @Grybauskaite_LT in Ukraine.
Welcome! pic.twitter.com/lOHPeSiNS1
— Petro Poroshenko (@poroshenko) on June 9, 2017
See also:
In Lithuania, carried out large-scale military exercises in the city on the "Crimean scenario"
We will remind, Lithuania started to erect a metal fence along the border with the Kaliningrad oblast of the Russian Federation. As noted, the first pole fence will be installed in the village, Ramones Szakiskola district. Made of metal fence will be erected approximately two metres more technical surveillance systems. On the way from the point three-way junction of state borders of Lithuania, Poland and Russia in the area of lake Vistytis and segments will be continued in Lithuania. and Vilkaviskis areas to the Niemen.
According to the Agency, the cost of the works is 1 million 335 thousand Euro, which were allocated from the budget of Lithuania, and to complete the construction of the plan to December 20.
Comments
comments