The headquarters of the ATO explained why the militants fantasize about the attack on positions of the APU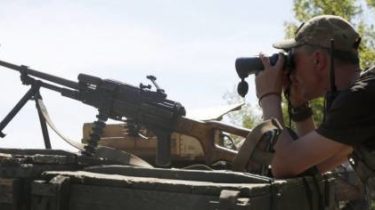 The militants spread false information about the fighting at occupied settlement in the Groove of the Luhansk region is the attempt to gain support among the local population.
This was announced tsn.ua ATO spokesman Anton myronovych.
He noted that while the situation under the Groove is stabilized and active hostilities ceased. "The day before yesterday shelling from artillery systems stopped. There, the militants suffered heavy losses, because our fighters up to the end fulfilled the order. In fact, there were just examples of heroism," said Kirov.
See also:
Wounded civilians and artillery fire on the border guards at the Sartans. Digest ATO
According to the speaker of the ATO, the relative calm of the Ukrainian soldiers are using in order to "strengthen the position, to pull forces and reserves."
He also commented on the message on the separatist resources about the alleged control of the militants over the territory near Kominternove Donetsk region. Myronovych sure that it is connected with changes in the attitudes of the inhabitants of the occupied areas. "Militants less supports the local population, especially after such a tragic event nearby settlements Novotoshkovskoe, Crimea, where they spent quite a large-scale armed provocation, which was supported and information. They did not succeed, they there suffered very heavy losses," he said.
See also:
Poroshenko signed a law to protect military who were wounded in the ATO
As noted by the Ob, the proliferation of "fake" information by militants is an attempt to "catch up, to find some support and show their progress with the kind of tactical advantage."
Earlier it was reported that on Wednesday, June 8, Lugansk terrorists made an unsuccessful attempt to attack the positions of Ukrainian military near the village of Zhelobok. At least 11 fighters of "LNR" were killed. At the same time, the militants spread information about allegedly the beginning of the offensive of the Ukrainian forces in the area of the Groove. Later, the press service of ATO denied the rumors.
Comments
comments