Not enough to destroy ISIS, we need to resist its revival – Ukraine in UN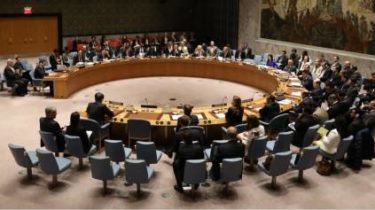 Terrorist group "Islamic state" is failing on the battlefield in Syria and Iraq, it resorts to other forms of extremist activities and recruitment of followers, so you need to effectively counter.
This was stated during a meeting of the UN Security Council Permanent representative of Ukraine in the Organization Volodymyr Yelchenko, writes UKRINFORM.
According to him, ISIS uses the online platform for recruitment and training, as well as private forums for the dissemination of its ideology. In this connection, the Ukrainian diplomat expressed a number of proposals to reduce the influence of terrorists in online networks. Secondly, according to him, promotion antiextremist sentiment will reduce the effectiveness of recruiting terrorists and bringing them new followers. Third, the "promotion of close contacts with local communities will be of great value to aid early detection elements of radicalization and application of the necessary measures to disrupt terrorist plots."
With regard to the financing of terrorism, the UN report noted that the main source of income of ISIS is smuggling of hydrocarbons from regions occupied by terrorists, added the diplomat. This phenomenon though diminished in volume, however, continues to exist. In this regard, the representative of Ukraine noted the importance of a more detailed study of the situation and presenting it in reports of the UN Secretary General.
See also:
In Iran, terrorists in Tehran was accused of ties with militants "IG"
Yelchenko added that significant risks are foreign fighters-terrorists who return to their countries from war zones. The IG suffers a defeat on the battlefield, however, this organization demonstrates the ability to change the shape of their activities and of the Renaissance. Therefore, said Yelchenko, the international community should learn this lesson and develop a viable strategy that will prevent a resurgence of the Islamic state in other forms and places.
Recall that the militants of the terrorist group "Islamic state" has claimed responsibility for the bloody attack in the British capital.
Comments
comments