Poroshenko signed a law to protect military who were wounded in the ATO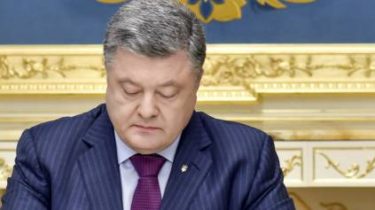 President Petro Poroshenko has signed the Law of Ukraine "On amendments to article 260 of the Charter of internal service of Armed forces of Ukraine", which was adopted by the Verkhovna Rada on 18 may 2017.
This is stated on the website of the President.
The law strengthens the protection of the rights of servicemen who got injured (a contusion, wound, injury) during military service, particularly in the area of the ATO.
The document is aimed at improving procedures for issuance of medical certificates and other documents to obtain military personnel statutory benefits.
The need for a law arose due to the frequent sluchai when military personnel who got wounds and contusions during the fighting, was not able to obtain under current legislation benefits and compensation due to imperfections in the provisions of the Charter of internal service of armed forces.
The lack of documentation of the receipt of wounds, injuries or contusions at the time of inspection the wounded military-medical Commission, was granted the right to specify in the certificate instead of "wounds" "zabolevanii" that was created for wounded negative legal consequences.
Appropriate changes to streamline the process of obtaining wounded soldiers of inquiries about getting injured (injury, contusion, mutilation) with the performance of military duties and to create appropriate conditions for ensuring the rights to benefits the wounded members of the antiterrorist operation in the Donetsk and Lugansk regions.
See also:
Poroshenko has signed the law on language quotas on Ukrainian television
We will remind that earlier the President Petro Poroshenko signed the law, which concerns changes regarding the higher education of people who live in the temporarily occupied territories of Ukraine. According to them, some residents of the occupied territories will be able to study at universities in Mykolayiv, Odesa region, Kherson region and beyond.
Comments
comments