She complimented the city for keeping the Ukrainian spirit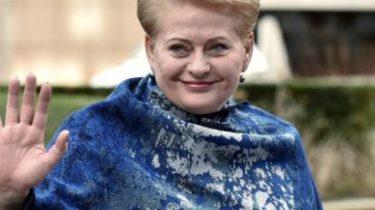 The President of Lithuania Dalia Grybauskaite took part in the solemn opening of the days of their country in Kyiv. There she was welcomed Ukrainian President Petro Poroshenko, the correspondent of TSN.
During the visit to the city Grybauskaite visited the Central Park named after Gorky, where he started days of Lithuanian culture. The distinguished guest participated in the festivities, walked around the Park and mingle with his countrymen, who organized the fair of traditional Lithuanian cuisine and crafts.
Also the Lithuanian President congratulated Ukrainians on a visa-free regime and expressed his admiration for Kharkov. Grybauskaite was struck by the fact that despite the dangerous proximity to the border with the country-aggressor, the town has kept the Ukrainian spirit. "This is the spirit which we are happy support you. And it is much easier to support Ukraine with such a spirit – a country that fights for itself. If you did not, how could I explain to his people that we are supposed to help you? And now I understand everything – I even do not need to explain. All the people support you," – said the leader of Lithuania.
Comments
comments