"The Ukrainian refugee with a troubled background". Poklonskaya is suspected of working for the security service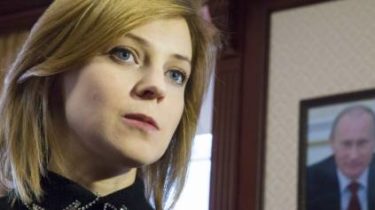 The so-called Russian Deputy Natalia Polonskaya suspected of espionage and of working for the security service.
About it writes Russian journalist Artur Gasparyan Moskovsky Komsomolets.
"All that creates under the guise of the mandate, the Russian Poklonskaya honorable, of course, bad. Of course, it's downright sabotage the reputation of Russia, Russian culture, social climate and the tranquillity of Russia. It is logical to ask: who is the customer, is to blame for this mess?", – stated in the message.
It is noted that "before returning to the Crimea and to ask for local, Poklonskaya was trying to make a career in Kiev, but allegedly due to incompetent was from there sent away."
"But in Crimea it is also not long delayed. "Reunited" immediately fled to Moscow, served in the state Duma of the Russian Federation – just steps away from the Kremlin! Convenient cover, isn't it? And who now ensures that the SBU under the guise of a refugee and collaborate did not send us his secret agent, introducing to the state Duma and putting at the behest of the American uncle clear as a tear baby, the task of subversive activities to undermine from within our still shaky foundations, to sow confusion and discord in the friendly Russian society?", – the article says.
Gasparyan believes her stuff official statement to the authorities with a demand "to immediately conduct a thorough and in-depth investigation on suspicion of espionage and betrayal, sabotage attracting the best professionals, including highly experienced and certified spy Anna Chapman TV with all its secrets."
See also:
"Murka", the myrrh-streaming of the bust and an icon of Nicholas II. As "nyash-myash" Poklonskaya became man meme
We will remind, recently Russia has denied the information about the presence of her undeclared apartments in Donetsk and threatened the Transparency International Deputy request to the Prosecutor.
Organization for the fight against corruption Transparency International called on the illegitimacy of the state Duma of the Russian Federation to withdraw the mandate with Polonskaya, if confirmed information about her nezadeklarovanoho apartment in occupied Donetsk.
The former "Prosecutor" of the Crimea is occupied by two service apartments, one Deputy in the Russian capital Moscow, and prosecutors in Simferopol, although it does not occupy this position. The third apartment Poklonskaya 29.9 square meter of TI found in the Ukrainian state register of property rights. Was she Dubrovsky Natalya Vladimirovna (Dubrovskaya's maiden name Polonskaya), who was born on the same day that Poklonski.
Comments
comments