Festive departures: from Kiev to the Polish Przemysl went to the first visa-free train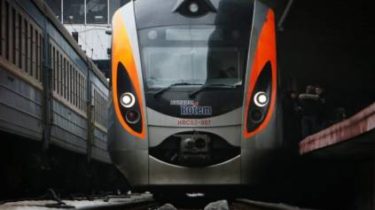 From Kiev to the Polish Przemysl went to the first visa-free train travel with a group of more than 40 Ukrainian activists, experts, analysts, artists and journalists.
Accompanied the train to the Central train station in Kiev representatives of the Ukrainian government and foreign diplomats, reports UNIAN.
Vice Prime Minister on European and Euro-Atlantic integration of Ukraine Ivanna klympush-Tsintsadze said that the leading figures of the Ukrainian culture and civil society representatives travelled to Poland to check how the first day works crossing the border with the European Union, which in her opinion "now is only a border, not a barrier."
See also:
"Ukrzaliznytsia" will launch a train from Lviv to Krakow
"Tonight we have the opportunity to see into your eyes and see, you have Europe, to study there practices, to bring them home, to change our country for the better, and I believe that the visa-free train rides, and we got such Bezus, it is primarily the acknowledgement that we made the reforms that we need," – said Deputy Prime Minister.
In turn, the Ambassador of the Republic of Poland in Ukraine Jan Hell said that Ukraine deserves the visa-free regime. According to him, today the EU opens the European space for Ukraine.
"I think you had to give a visa-free regime years ago," the diplomat said.
We are waiting for you in Przemysl 🙂 #Btvs #bestvi #visafree #visafreetrain https://t.co/khhojKUr0e
— Andrii Deshchytsia (@ADeshchytsia) 11 Jun 2017
He said he was happy to see train to Przemysl. "I invite you to Poland, I invite you all (to enjoy) a visa-free regime", – he added.
He also recalled that the verification process of citizens during the border crossing, which refer to the issue of security, remain. In particular, biometric passports are checked.
Head of press and information delegation of the European Union Jurgis Vilcinskas stressed that "btvs will create more freedom for Ukrainians to visit the European Union".
Recall, for establishing railway communication with Hungary's Ministry of Infrastructure plans to launch a local train to Debrecen.
Comments
comments