Balcon on completion of the contract with "Ukrzaliznytsya": We are preparing to report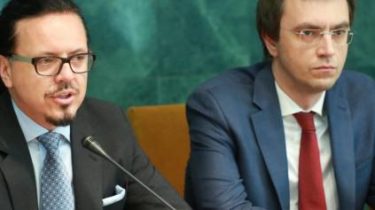 The head of "Ukrzaliznytsya" Wojciech Balczun a week is working without a signed with the Ukrainian government agreement. On Monday, he commented on the situation that has developed, says the story TSN.19:30.
The Polish reformer had a briefing with the head of the Ministry of health Ulyana Suprun. Officials signed the Memorandum, according to which the departmental hospital of "Ukrzaliznytsia" will be treated not only by railwaymen, but also ordinary people.
See also:
In Balcone contract ends. A year of victories and conflicts of the head of "Ukrzaliznytsya"
Also Balczun stated that the contract extension now depends on the Cabinet. Soon he was invited to the government session, which will hear a report, the results of which will sign or will not sign a new agreement. "About the contract. Everything will go as stated by the Prime Minister. We are preparing to report to the Cabinet. The us government will appreciate, and depending on results will decide the issue", – said the head of "Ukrzaliznytsya".
Polak himself has admitted that he wants to continue working on the Ukrainian rail because it has a lot of plans for the future. Balcon told about their achievements and announced new trains to European capitals: on June 15 will begin to move the train from Lviv to Varna, Bulgaria, and at the end of the year will bring the message Kiev – Vienna.
Comments
comments