In Russia opened a case against the MP parasiuk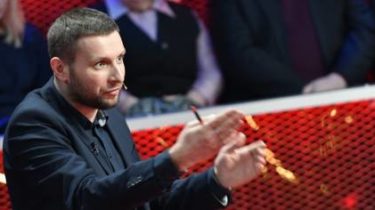 The Russian investigative Committee opened a criminal case against Ukrainian MP Vladimir Parasyuk. This is stated in the official statement on the website of the TFR.
It is noted that the case opened the investigation of "attacks" on the Consulate General of Russia in Lvov and "abuse" of the Russian flag on March 9, 2016.
The investigative Committee said that the action on the day saw the incitement of people to the above actions. The case opened under article "recruiting persons to commit attacks on institutions that enjoy international protection."
In this case the SC decided to end the emotional part, calling on "extraordinary and outrageous personality" and remembered his participation in the blockade of the railway of Donbass.
"Apparently for him committing another serious crime is not something extraordinary. However, such actions clearly illustrate the image of the representative of the authorities", – stated in the message.
Recall, March 9, under the Consulate of the Russian Federation in Lviv, as in other cities of Ukraine have been rallies demanding the release of Hope Savchenko, which at that time was in a Russian prison. During the rally the activists were pelted the building with eggs and threw the smoke grenade. Parasyuk thus stripped from the guardian the Russian flag, after which the flag was burned.
Comments
comments