"Kusyuk*BHA". As in the Network laugh at the ex-the Berkut officer, who dispersed the Russians at the rally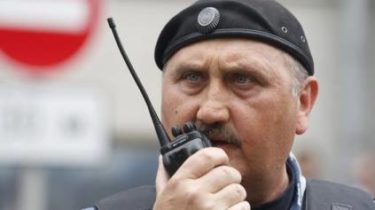 The appearance eks-the head of the Kiev special forces "Golden eagle" Sergey Kusyuk during detentions of participants of anti-corruption rallies in Moscow actively discussed in social networks.
Photos and videos of former Ukrainian strongman in the form of the Russian intelligence services published by the Russian journalists and propagandists.
See also:
Posted a video with the ex-the Berkut officer with Kusyuk, who commands security forces in Moscow
The Network began to write sarcastic comments about the fact that Russians have a unique opportunity to get a scolding from his idol. The berkutovtsy users called "Kusyuk*BHA".
Riot police at yesterday's rally in Moscow was headed by Sergey Kusyuk, earlier tried to disperse the Maidan in Киевеhttps://t.co/5A5XzRCMK2 pic.twitter.com/u0QFPPlJRm
— Lentic (@oldLentach) 13 Jun 2017
The former commander of "Berkut" Kusyuk major dispersed the protests in Kiev in 2013. And now – in Moscow, in the 2017th:

pic.twitter.com/Yxciy0hbkV
— Foreign Rossi (@Fake_MIDRF) 13 Jun 2017
well, the last shot in the head Kusyuk bites the Russians.. https://t.co/nkgsshtNRp
— Marty Liashkevych (@marthaua) 13 Jun 2017
As previously reported, during anti-corruption rallies in Russia have detained nearly 1.5 thousand people, including opposition leaders Alexei Navalny and Ilya Yashin. Two of the detained protesters suspected of violence against an employee of Regardie and now to them threatens till 10 years of imprisonment.
The Bulk of the rally did not come: he was detained at an entrance of own house. The police accused the policy in response to the violation of the rules of organization of rallies and disobedience to the lawful order of a police officer.
Comments
comments