In the Donbas 72 settlements are still without water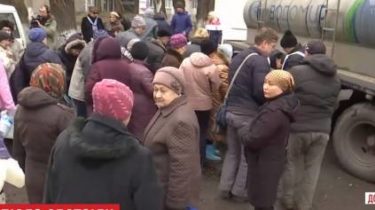 The state service of emergency situations reports that as of 14 June at the Donbass 388 thousand people remain without water from June 8 through damaging two high-voltage power lines and transformer substations in the fighting.
This is stated on the website of gschs.
See also:
In the Donbass stopped the flow of water immediately for 5 filtration stations
"Without a centralized water supply remained 72 localities (388 thousand persons) in 5 districts of the region (Pokrovsky, Selidovsky, Volnovakha, dobropil's'kyi, Mar) and the village Oleksandrivka", – stated in the message.
At the same time, the Chairman of the Donetsk military-civil administration Pavlo zhebrivskyi said on his page in Facebook that today, June 14, repair crews KP Water of Donbass began work. Meanwhile, the day before they fixed the transformer and raised the two lines.
Also on his page you can find the schedule of delivery of water to 18 June. According to gschs, the process of conveying water attracted 43 pieces of equipment and 70 people, including 16 units and 33 people from gschs. Water served daily from the reserve tanks and Savin.
We recall the morning of June 10 in gschs reported that in 5 districts of the Donetsk region, about 388 thousand inhabitants remained without centralized water supply after attacks on 8 June. The damage occurred in Yasinovatskiy district near the village of Vasylivka on the uncontrolled territory and led to the termination of electricity supply to the pumping station first lift Yuzhnodonbasskaya aqueduct, which provides water to four filter plant, namely: Charles (village of Karlovka), Velikoanadolsky (city Volnovaha), Stary №1 and №2 (city of Mariupol).
Comments
comments