Russia artificially change the demographic composition of the annexed Crimea – Tuk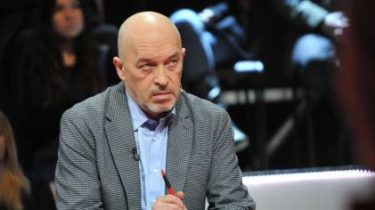 Russia is constantly increasing its military capabilities on the annexed Peninsula of Crimeathat could become a threat not only from the point of view of possible Russian aggression on the mainland Ukraine, but also from the point of view of changes in the ethnic composition of the population of the region.
This was stated by the Deputy Minister of the temporarily occupied territories and internally displaced persons of Ukraine Georgy Tuka on June 13 during the annual meeting with European partners in the framework of the dialogue on human rights between the European Union and Ukraine, informs the press service of the Ministry.
See also:
In Kazakhstan scandalous sketched a map of Ukraine without Crimea
"A huge issue is the increase in the military potential of Russia in the Crimea. Russia imports a large number of military personnel. It is clear that families move to the Crimea to live together with the military. Not moving for a day or two. Thus, Russia repeats the steps of the Soviet Union artificially change the demographic composition of the entire region. This is unacceptable. This is a gross violation of international law," – said the fat.
He also added that Russia is blocking Ukrainian sites that provide citizens in the annexed territories the opportunity to study Ukrainian language, literature, history, to prepare for the exams in Ukrainian higher educational institutions.
Earlier, the UN said that the Kremlin is violating the provisions of the Geneva Convention relative to the protection of civilian persons in time of war, forcing residents of the annexed Crimea for military service in the ranks of the Russian Federation. For military service occupants expect to call up to 2 400 men.
Comments
comments