Turchynov hopes that BP before the holidays begin consideration of the bill about changing the format of the ATO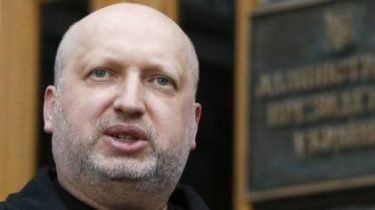 Secretary of the national security Council and defense of Ukraine Oleksandr Turchynov hopes that in the near future, will complete development of a bill about changing the format of the antiterrorist operation in the Donbas and the Parliament will promptly consider.
About it reports "Interfax-Ukraine".
He hopes that this week will be an expert discussion, and after making the President of this bill in Parliament MPs will not delay a positive vote. The main emphasis in this bill will focus on problems of the state, aimed at liberation of the occupied territories.
"We are not just stating a fact the Russian occupation, and at the legislative level determined by the complex of power and diplomatic steps that should ensure the liberation of the occupied territories", – said Secretary of the NSDC.
The creation of the operational headquarters in the ATO zone Turchynov considers one of the mechanisms of military and civil administration in the area of military conflict." He explained that under the bill, a headquarters is created by the decree of the President and he will be granted the most extensive powers to implement the tasks of the defence and liberation of the occupied territories, are subject to all military and law enforcement agencies, military and civil administration.
The NSDC Secretary also explained that after the adoption of such a law legally ATO to be completed.
See also:
One dead and seven wounded soldiers of the ATO. Day in the Donbass
June 13, Turchynov said that Ukraine needs to complete anti-terrorist operation and to move to a new format to protect the country from the hybrid war with Russia.
According to the calendar of Parliament, the last plenary meeting of the ongoing 6th session of the 8th convocation will be held on July 14.
Comments
comments