Ukraine in the UN security Council: Yelchenko told, who are most threatened by mines in the Donbas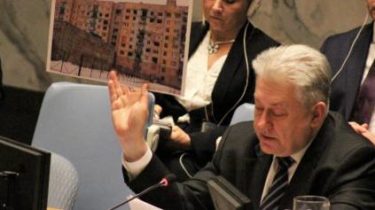 The Russian mines in the Donbass are threatened more civil than military.
This was stated at a meeting of the UN Security Council permanent representative of Ukraine in the Organization Volodymyr Yelchenko, writes UKRINFORM.
"Mines and explosive devices scattered throughout the conflict zones, especially along the line of collision and pose a serious threat to civilians, including children," – said the Ukrainian diplomat.
Such explosive remnants of war often remain illegal armed groups in residential areas and along roads.
"This poses a great threat to civilians than military personnel", – said the representative of Ukraine.
The threat of explosions is a direct result of foreign military aggression and offensive action by the "hybrid Russian terrorist forces" operating in certain districts of Donetsk and Lugansk regions of Ukraine, said the Ukrainian diplomat.
He recalled that one of the last of such cases has been associated with the undermining of April 23 near the city of Lugansk car of the OSCE SMM with lethal consequences. "Unfortunately, the Security Council statement condemning the horrific incident, was blocked by the Russian Federation, which is very eloquently points to who committed this crime, and who are their patrons," – said Yelchenko.
The representative of Ukraine to the UN also stressed the importance of international cooperation to combat threats posed by explosive remnants of war, improvised explosive devices and mines, as well as on the need to implement relevant international legal instruments.
Comments
comments