In the United States looking for a replacement Nuland for talks on Donbas – foreign Ministry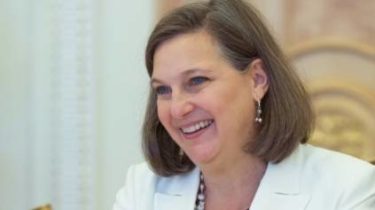 The U.S. state Department is looking for substitute assistant Secretary on Affairs of Europe and Eurasia Victoria Nuland for negotiations on the Donbass.
This was announced by first Deputy Minister of foreign Affairs Vadym Prystayko, UNIAN reports.
According to him, the Ukrainian side expects to discuss with US the possibility of more active involvement of Washington to the negotiations on the Donbass, and discusses the various formats.
"Do you remember, was the format of the Nuland-Surkov? Were the negotiations in the "Geneva format", where they were without Nuland and Surkov. There is information about what the State Department tries to find the man who could replace Nuland on this track. Again, not necessarily should it be a repetition of the Nuland-Surkov. It might be a different format, which we will soon discuss with our American colleagues," – said Deputy foreign Minister.
See also:
Minsk reticence. Why flew Nuland and why in the Donbas not subsided fire
We will remind, in October 2016, the under Secretary of state for Europe and Eurasia Victoria Nuland together with the senior Directors of the Council of national security of the United States Celeste Wallander and Charles Kupchina met in Moscow with top Russian officials, including with the Russian presidential aide on foreign policy Yuri Ushakov and Russian presidential aide Vladislav Surkov. The meeting discussed the situation in the East of Ukraine.
Comments
comments