A Real Casanova. Biden gently kissed her in front of the camera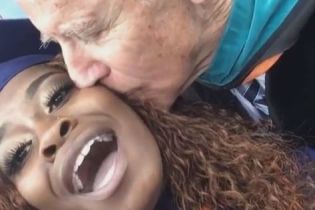 Former us Vice-President Joe Biden reminded the users of the social network touching video, which gently kisses my cheek, a University student Morgan in Baltimore, USA.
During prom girl briana Carter saw Biden and decided to take a selfie with him. At first the picture was blurry, there was some problems with SnapChat, until she received an unexpected gift – kiss policy.
See also:
Daze to tears. As Obama awarded the highest award of the United States his "brother" Joe Biden
"He kissed me on the cheek, because I'm pretty and my phone was not working," – said the happy graduate Mashable.
She managed to capture precious footage on your video.
As previously reported, earlier, ex-US President Barack Obama flew to Berlin, where he was greeted like a rock star. People stood with posters "We miss you", "Barack, you look great" and "Obama, if you were to leave".
Comments
comments