"I've done patients injections". Poroshenko, told how in his youth was the substitute for the wife to practice at the hospital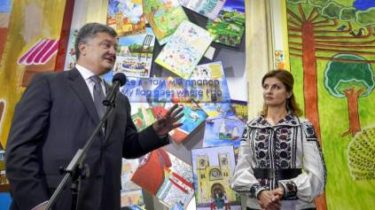 During the congratulations to medical workers , President of Ukraine Petro Poroshenko shared his memories of how in his youth he helped his wife in the hospital night shift.
On this day, June 16, I reported "Ukrainian truth".
See also:
Poroshenko and his wife visited an Israeli hospital known volunteer-medic
"You need to love the profession of a doctor. Because if you don't like her, you can not work. I know it exactly because of my 18 years with the Marina, who then was the future doctor, every night I went with her to the night shift, because I really loved and love her," he said.
"And we sometimes violate the instructions. I gave her to sleep in an hour and he went to put the injections… and then realized how hard and very rewarding work", – he said.
Note, Maryna Poroshenko in due time graduated from Kyiv medical Institute. After that, she worked as a doctor in the cardiology Department of the October hospital in Kiev. She is now the candidate of medical Sciences.
We will remind, in may the first lady of Ukraine became the leading morning program in the framework of the social project. The President said that the wife did not consult with him about this, but he supported it.
Comments
comments