In Kiev attacked several members of the "March of equality"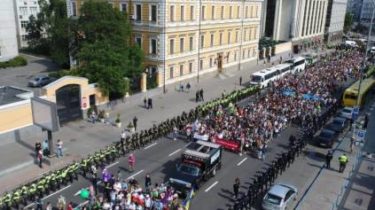 Today, June 18, after the end of the "equality March" on two of its members was attacked by unknown.
This was announced by the representative of the organizing Committee "Kievprayd" Ruslan Panuhnik, writes gromadske radio.
See also:
"This should be a show for everyone!": what you post on the occasion of the March for LGBT rights
According to her, one of the participants of the equality March was attacked on Kontraktova square in the subway. He was a monitor from the "Ozone". Another party was attacked near "Petrovka".
Panuhnik added that the attackers were five. According to her, these facts reported to the police, but she doesn't know.
See also:
In the center of Kiev, people came out to "March of equality": as it was
In turn, the activist Olena Herasymiuk said that downtown people who search for "perverts".
"Friends, there is another sort of danger: some dumb a crowd of men right now walking and looking for "perverts" in the center of the city. Be careful. We just met these characters, be warned" — she wrote.
In addition, the head of the communication Department of the Kiev police Oksana Blischik said in Facebook that the fast food restaurant near the metro station "Area of Leo Tolstoy's" the man tried to disrupt the bracelet with the symbols of the LGBT community.
We will remind, today, Sunday, June 18, in Kiev was held the annual procession of members of the LGBT community and all who support them, called "March of equality".
According to law enforcement, participation in the procession was attended 2,500.
Comments
comments